People came from hundreds of miles around to buy the powerful drugs from pharmacies linked to pill mills where compliant doctors prescribed indiscriminately
Tug Valley Pharmacy was late to the gold rush, but swiftly made up for lost time.
To the watching investigators, the stone building with a peaked red roof looked more like a rural cabin than a fount for the millions of opioid pills spilling across Appalachia. The giveaway was the drive-thru window, and the cars lined up past the abandoned ghost shops in downtown Williamson, West Virginia.
The name of the pharmacys owner, Samuel R Ballengee PharmD, was displayed on the window under a sales pitch: Its all in the bag.
Lets call this whole thing what it is. Its pretty much a cartel. A drug trafficking organisation, said Sgt Mike Smith of West Virginia state police, who spent years unravelling the web of doctors, pharmacists and drug companies that made rural Mingo county the opioid capital of America.
Then right in the middle of this drug trafficking organisation, you have a little pharmacy that pops up and everybodys OK with it. Im sitting here looking at this. Its hard to believe that was allowed.
It wasnt long before drug distribution companies, some of the largest firms in America among them, were delivering millions of opioid pills a year to Tug Valley. Millions more were shipped to another pharmacy, Hurleys Drug Store, four blocks away. All in a town of fewer than 3,000 people.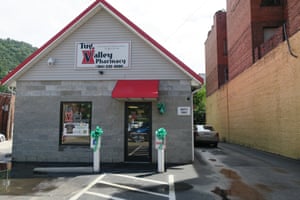 Source: http://www.theguardian.com/us