Fresh wave of shootings as demonstrators try to occupy main square
A fresh wave of shootings by Iraqi security forces has left at least three people dead in central Baghdad after protesters demanding widespread changes tried to storm a public square, stepping up their push to oust the countrys government.
The latest killings took the death toll in the month-long uprising to at least 320, while pressure mounted on the countrys political elite to resolve the most sustained unrest since the end of the US occupation of Iraq almost a decade ago.
Medics said they treated about 150 demonstrators on Friday, many of whom had been affected by teargas. Some had been shot with live rounds, others with rubber bullets, and yet more hit directly with gas canisters, which government forces have frequently used as projectiles.
We were trying to push back the riot police and take Sinak bridge, said Mahmoud, 24. The police rained teargas and smoke grenades and live rounds in the air.
Yassin, a 27-year-old doctorleading one triage centre, said: We received 50 injuries from direct hits from canisters and two dead, who were hit in the head.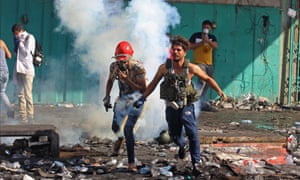 Source: http://www.theguardian.com/us