The Indian Ocean beachfront, the restaurant strip of Florida Road and the market at Warwick offer three very different models for the future of South Africas third largest city
Its an early start on Durbans beachfront Golden Mile. By 6am the surfers have arrived, followed by the runners and their dogs, then executives-cum-cyclists, speed walkers and yoga instructors. By 7am the cafes are open for breakfast and children, on holiday from inland schools, are already in the water.
Where fellow oceanside metropolis Cape Town has marketed itself to the world, Durban has positioned itself as South Africas playground. Beachfront theme parks and twirling public waterslides attract families from around the country, and all walks of life. This accessibility and affordability have made this eight-kilometre strip arguably one of South Africas most inclusive public spaces.
Beyond the narrow strip of beach and promenade, though, South Africas third largest city struggles with the same problems as the rest of the country: 25 years after the fall of apartheid the city which was divided by race remains divided by economics.
But it is setting out to address those issues with several new models of growth the waterfront, a privately funded development of restaurants and retail along Florida Road, and the redesign of the traditional market at Warwick Triangle.
Each embodies a different theory of how Durban can best become a more inclusive city and each has its defenders and detractors.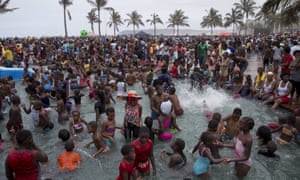 Source: http://www.theguardian.com/us