His victory marks a welcome shift from the tough on crime norms to bold positions that veer radically to the left
The local deputy sheriffs union shared a video declaring him the son of terrorists. The police union called him the #1 choice of criminals and gang members. But after five days of vote tabulations and a narrow 2,500-vote lead, Chesa Boudin is San Franciscos next top cop.
The son of two leftwing Weather Underground radicals who served as the getaway drivers in a 1981 armored car heist that left two police officers and a guard dead, Boudin last week won the race for San Francisco district attorney, vowing to bring change to a city with a liberal reputation that it has not always earned.
Across the country, progressives ranging from presidential candidate Bernie Sanders to civil rights activist Shaun King celebrated Boudins victory as the latest in a growing groundswell for criminal justice reform.
In a way, his victory reflects the sort of world that progressive criminal justice activists across the nation have been trying to build over the past few years: one in which a persons mistakes do not dictate the rest of their lives nor the lives of their children.
Compassion, Boudin told the Guardian. Thats something we really need to return to the criminal justice system. For victims, for families of people impacted, for witnesses, for defendants and for their families, and frankly for people who work in the system. Compassion, for everybody whose life is touched by crime.
For those fighting for criminal justice reform to end mass incarceration, the criminalization of the poor, and the over-policing of black and brown people in a broken system that now counts more than 2.2 million people behind bars in the US Boudins victory marked a welcome shift in the accepted tough on crime norms of politics and public safety.A candidate could win the position of top cop while veeringradically left of the usual law-and-order script. A candidate could win taking bold positions: no longer charging gang enhancements, not prosecuting on minor quality of life crimes, creating a unit to look at past wrongful convictions, eliminating cash bail.
A candidate could win without playing it safe on public safety.
I would talk about Chesas candidacy in the early days to people in the city, and they would say things like, Hes incredibly smart, hes incredibly charismatic, but he cant win. He cant win, said Lara Bazelon, a University of San Francisco law professor and Boudin supporter. Theres this thought that theres a fundamental ceiling on the movement and there are candidates that just cant win. But thats not true at all and this race proves it.
Boudin embraced his rich backstory from the start of his campaign, speaking openly of his parents experience with incarceration in campaign ads and stump speeches as a nod to his understanding of the criminal justice system. His parents, Kathy Boudin and David Gilbert, were sent to prison when he was 14 months old, and for all his childhood, the only contact he had with them was behind bars. Gilbert remains in prison in upstate New York Boudin was flying back from visiting him when he learned that he won the election while Kathy Boudin was paroled in 2003 and works as an assistant professor at Columbia University.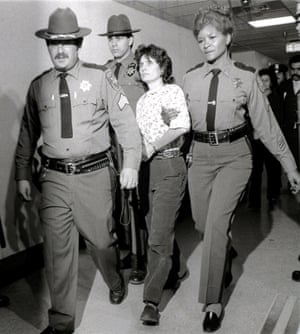 Source: http://www.theguardian.com/us