More Russian troops arrive in border region as Donald Trump hails situation as a big success
Russian troops have expanded their presence across north-eastern Syria, the result of an agreement between Ankara and Moscow that should end Turkeys attack on Kurdish-led forces at the price of ending the Kurds dreams of local autonomy.
Syrian and Russian media showed footage of Russian military police vehicles on the outskirts of the important towns of Manbij and Kobane on Wednesday, one day after the Turkish president, Recep Tayyip Erdoan, met Vladimir Putin in Sochi.
A statement carried on Russias Interfax agency said Russian patrols had already begun inside Manbij, a town that until two weeks ago was a key US base in the region.
The deal was hailed as a big success by Donald Trump, although his critics say it cements Russias role as prime power broker in the Middle East after the US presidents announcement that American special forces would withdraw from the area.
The US president was planning to make a fresh statement on the issue on Wednesday morning. In an earlier tweet he claimed the Kurds were safe and Isis prisoners secured.
Turkish troops, allied Syrian rebel proxies, the Kurdish-led Syrian Democratic Forces (SDF) and soldiers belonging to the Syrian president, Bashar al-Assad, are now all present in the border zone, with Russia the only negotiating force between them.
The talks on Tuesday between Erdoan and the Russian president defined the contours of Turkeys long-proposed border safe zone: Turkish troops in the area seized since the offensive began on 9 October will remain in situ, and Russian soldiers and the Syrian army will control the rest of the frontier.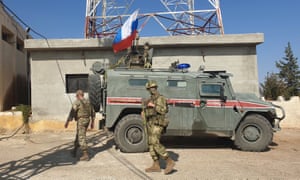 Source: http://www.theguardian.com/us