Schools and businesses close as countrys biggest utility, PG&E, cuts electricity and gas to record swath of region
Schools are closed. Traffic lights down. Tunnels dark. Businesses unopened. Hospitals running on generators.
Much of northern California is facing life without electricity or gas for as many as five to seven days, after the countrys largest utility company cut power to an unprecedented swath of the state as a preventive measure against wildfires.
The power shutoffs by Pacific Gas and Electric (PG&E) may affect up to 2.5 million people by the end of the week. The first wave of shutoffs began on Wednesday to portions of 20 of the states 58 counties. PG&E was expected to shut off power to 10 more later in the day.
Santa Clara county, the home of Silicon Valley, declared a local emergency on Wednesday afternoon in hopes of spurring California to declare a state of emergency.
In Santa Clara county alone, 38,250 customers will be affected, said Miguel Mrquez, chief operating officer for the county. Of those customers, 1,100 are what are called medical baseline customers that have special energy needs due to the medical equipment they have.
Swaths of wine country north of San Francisco, hit hard by wildfires in 2017 , sat in the dark for most of Wednesday, along with the region north of Sacramento devastated by the 2018 Camp fire.
The power shutoff zone stretched down the Sierra Nevada foothills and along the coast into the far north of the state, with large portions of the Bay Area set to turn off in the evening.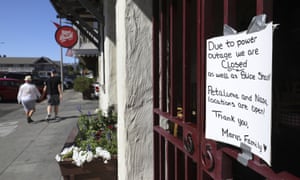 Source: http://www.theguardian.com/us