Growing up in rural Australia, I found joy in the weird creatures around me and finding out why they had evolved that way. Now Ive illustrated a whole childrens book about them
The surinam toadis an unusual creature to behold: it has an extremely flat, splat-like body, with a posterior packed with large pores full of babies. Its as though somewhere during evolution, it took a wrong turn and then got run over.
But of course, the adaptation has an intelligent purpose. By carrying her eggs on her back, the mother is able to lay flat against her surroundings, protecting her spawn from predators until they are ready for the world.
If you suffer from trypophobia (the fear of small, tightly packed holes), look away now.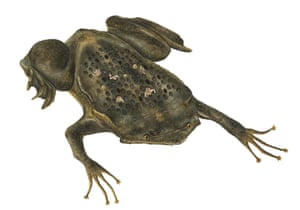 Source: http://www.theguardian.com/us