Adam Neumanns mission was to elevate the worlds consciousness. Now the office space provider he started must prove it has a future
Adam Neumann was poised to become one of the worlds richest people this year, crystallising a personal fortune of as much as $14bn (11.3bn) from the flotation of WeWork, the shared working space company he co-founded with a mission to become the worlds first physical social network.
But in a bruising fortnight Neumann has been forced to pull the float, quit as chief executive, halt all of WeWorks lease expansion plans, and seen the companys credit rating cut to junk status. He has also had to fend off a series of increasingly damaging allegations about his personal conduct, including the revelation that he smoked marijuana on a private jet. The company is now selling the $60m Gulfstream G650 plane that Neumann had used to fly around the world to attend tequila-fuelled parties with the likes of the Red Hot Chili Peppers, Jared Kushner and Will Smiths son Jaden.
When Neumann, a 6ft 5in 40-year-old Israeli with a mane of dark hair worn to his shoulder or lower, announced plans to launch an initial public offering (IPO) on the New York stock exchange, bankers at Goldman Sachs reckoned the heavily loss-making but fast-growing company could be worth up to $65bn (53bn).
That would have made the firm this year rechristened the We Company worth 15 times the value of the 135-year-old Marks & Spencer, and seen Neumanns 22% stake crystallised at $14.3bn. And it could have slotted him in at number 94 in the Bloomberg Billionaires rankings of the worlds richest people, several places above the vacuum cleaner magnate James Dyson and Hugh Grosvenor, the 28-year-old Duke of Westminster, whose family owns vast tracts of Londons Mayfair and Belgravia.
WeWork has grown to become the single biggest office tenant in Manhattan, and the second in London after the government. It has expanded from offices to student halls-style communal living blocks, private schools and luxury gyms and boot camps. The Guardian US is among WeWorks tenants.
This summer Neumann suggested that if only it could grow enough, WeWork could solve the worlds most difficult problems, such as the refugee crisis. I need to have the biggest valuation I can, because when countries are shooting at each other, I want them to come to me, he said, according to a profile in New York Magazine.
At a company party last year he told his staff that WeWorks mission was to to elevate the worlds consciousness and that there are 150 million orphans in the world. We want to solve this problem and give them a new family: the WeWork family.
However, Neumanns arrogance did not go down so well with Wall Street investors when WeWork published its flotation prospectus in August. It warned potential investors that: Adams voting control will limit the ability of other stockholders to influence corporate activities and, as a result, we may take actions that stockholders other than Adam do not view as beneficial.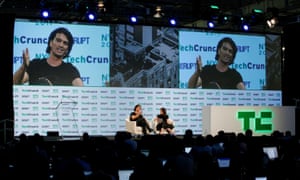 Source: http://www.theguardian.com/us