The long-awaited return of Jesse Pinkman has landed on Netflix, along with some other surprise characters
The past weekend saw the much-anticipated release of El Camino: A Breaking Bad Movie on Netflix. As we knew from Augusts press release and teaser, plus a couple of trailers and clips released since, the film would trace remorseful meth dealer Jesse Pinkmans (Aaron Paul) flight from captivity and personal reckoning following the events of Breaking Bads 2013 finale.
Beyond that, we werent given much in the way of details, which led many to wonder exactly what shape the film would take, as well as what, if any, surprises it held for the shows surviving characters, dangling plot threads and existing mythology.
When it dropped on Friday at midnight, diehard fans took to the film like it were a fresh batch of Blue, and now that everyone else has had time to catch up, we can delve into some of the films key moments and biggest talking points.
Sequel, spin-off or postscript?
Despite the title of the film El Camino is a reference to Jesses getaway car, which also translates in English to the way the film is neither a road film nor a chase movie. Nor, for that matter, is there much in the way of overarching plot: Jesse spends most of his time trying to flee Albuquerque, attempting to remain hidden in plain sight as he deals with a handful of unforeseen obstacles, as well as a severe case of PTSD.
This structure, combined with numerous lengthy flashbacks (all of which, it should be noted, are new scenes), makes El Camino feel less like a standalone film than three slightly truncated episodes of Breaking Bad stacked back-to-back. This isnt necessarily negative if these had been episodes of the series theyd rank among the very best but it does give the film a slightly off-kilter rhythm.
Meanwhile, some Breaking Bad fans might be disappointed by El Caminos relatively low-key stakes, at least compared to the epic scale of Breaking Bads latter seasons, though they are probably in the minority: all of the major set pieces retain the tight, intelligent plotting and nigh-unbearable tension weve come to expect from writer-director Vince Gilligan, while the unbroken focus on Jesse provides an emotional catharsis that greatly adds to the larger Breaking Bad canon.
But was it necessary?
While El Camino has received strong reviews, one talking point that keeps popping up is the notion that since it doesnt throw any big twists our way, or even really expand on what we probably surmised at the end of the original series re Jesses fate, the film is somehow unnecessary.
Even without diving into a larger discussion about the necessity of any individual film, such criticism still reads as bogus: El Camino gives us the opportunity to re-enter a world weve come to love and to catch up with characters weve missed. While its far too intense a thriller to be considered a classic hangout movie, it nonetheless operates on a similar level.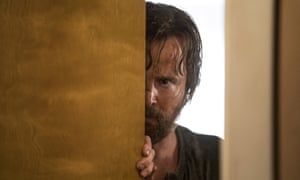 Source: http://www.theguardian.com/us