Footage shows thief using axe to smash display case in Green Vault of Royal Palace
Police in Germany have released dramatic CCTV footage of one of two suspects in the Dresden jewellery heist using an axe to smash a display case in the state museums Green Vault.
Two robbers snatched priceless 18th-century jewellery in an astonishing smash-and-grab raid from the Grnes Gewlbes jewel room at the Royal Palace in the east German city on Monday morning.
Police have called for witnesses to step forward and released images of the stolen items, which were taken from a collection of jewellery that once belonged to the ruler of Saxony, Augustus the Strong.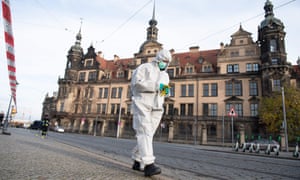 Source: http://www.theguardian.com/us