Anti-Taliban resistance veteran faces off against old rival Ashraf Ghani in election on Saturday
Abdullah Abdullah has spent more than a decade trying to become Afghanistans president, contesting three separate votes and coming within touching distance in 2014 before watching the prize slip from his grasp.
In most other countries, repeated high-profile losses would almost certainly spell the end of a political career, despite Abdullahs credentials from years serving with the anti-Soviet and anti-Taliban resistance and later in government.
In the byzantine world of Afghan politics, those battles have, however, made the urbane former ophthalmologist the most credible challenger for many who want the incumbent, Ashraf Ghani, ousted from his post in voting on Saturday.
Some of Abdullahs team have been with him for years, others are former Ghani supporters including one of his 2014 vice-presidential candidates who swapped sides because of personal disputes, frustration over how he has distributed the spoils of power, or disillusionment over how he has ruled.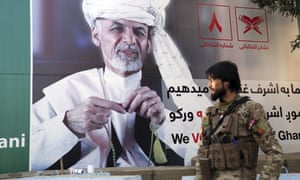 Source: http://www.theguardian.com/us